Garpol Glen, from the Bridge. No. 983.
G. W. Wilson, Photographer, Aberdeen (circa 1860s).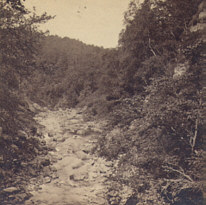 Known for his stereographic views of Scotland made and widely published in the early 1860s and afterward, the photographs of G. W. Wilson depict a romantic view of Scotland as a land of stout castles and deep, mysterious glens. Because Wilson chose to photograph those scenes in stereoscopic realism, they are at the same time an accurate picture of nineteenth-century Scotland. Today anyone with a stereo viewer and handful of views can readily experience the Scottish countryside of G. W. Wilson. A remarkable achievement of the stereo photographer's art.
His stereocards show attention to detail and concern for maintaining rights to his images. An 1863 view of Glasgow, for example, contains a paper caption describing the scene, giving the photographer's name and location and a blind-stamped date. It was important for a photographer to not miss an opportunity to keep his name before the public. Before copyright law the work of many photographers was pirated.
An advertisement by the E. & H. T. Anthony company, distributors of photographic supplies in the United States, used Wilson's name to promote a line of stereo camera lenses: "The splendid Stereoscopic Views of ... G. W. Wilson are made with Dallmeyer Lenses." (Making of America)